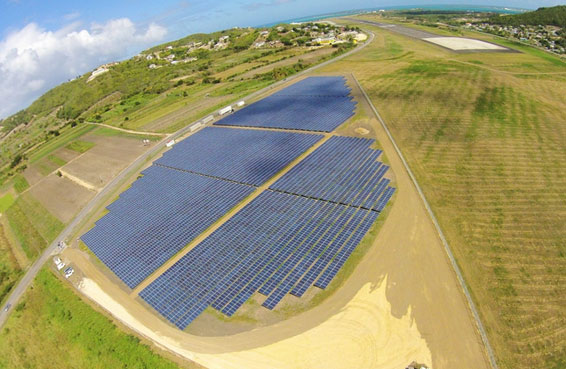 V.C. Bird International Airport
Pioneering project in Antigua
As a completely new approach of implementing clean energy solutions in the Caribbean Island Region, in 2015 meeco through its joint venture company PV Energy Limited has commissioned a 3 MWp sun2live PV power plant at the V.C. Bird International Airport Antigua, in collaboration with the government of Antigua and Barbuda. The ground-mounted fixed sun2live solar plant was designed to feed the airport with green energy through the island's grid. More than 12,000 top-tier polycrystalline oursun photovoltaic panels generate up to 4.645 MWh per year and therefore save a substantial amount of 3.019,50 tons of CO2 emissions during the same period, contributing to the reduction of the carbon footprint of the twin island state Antigua and Barbuda.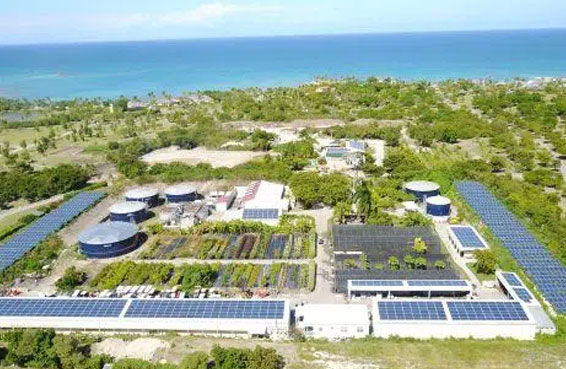 Jumby Bay Island
Clean energy for Antiguan Island
The small private island Jumby Bay, located in the north of Antigua, has reached a new level of autarky through the implementation of our clean energy project in 2017. The installation of eleven sun2live and sun2roof solar systems with a total capacity of 404 kWp represents an important step towards a sustainable and economic energy supply.
The solar solutions, implemented through our joint venture company PV Energy Limited, have already exceeded the expected performance criteria in the first months. Benefiting from the excellent climatic conditions for generating renewable energy, 216.9 kWp of ground-mounted sun2live solutions and 186.82 kWp of sun2roof rooftop installations on different buildings, such as offices and workshops, contribute to establish an independent energy supply.
Digicel
Solar telecommunication in Antigua
Digicel – one of the most important Caribbean mobile phone network suppliers – has opted for meeco (through its joint venture company PV Energy Limited) to install the first sun2com solar telecommunication solution in Antigua, in 2016. To enable the wireless communication between a user's device and the network in remote areas such as the Caribbean islands, Digicel operates numerous telecommunication stations, also referred to as Base Transceiver Stations (BTS). Previously, all these stations have been powered by diesel. In order to circumvent the use of polluting, expensive and high-maintenance fossil fuel generators, Digicel has invested into two 5 kWp sun2com solar power solutions implemented by PV Energy. Installed in St. Johns, Antigua, each of the sun2com solutions includes 20 polycrystalline photovoltaic (PV) modules, generating annually at least 7.61 MWh of electricity and therefore saving more than 4,000 kilograms of CO2 emisssions per year. By providing clean and reliable energy for the BTS, sun2com reduces the risk of power shortages and outages and ensures more independence from high fuel and increasing delivery costs for Digicel.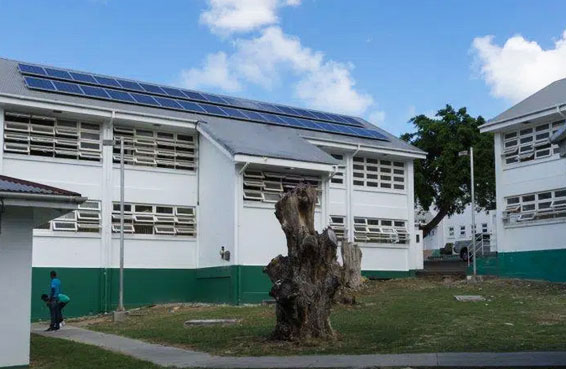 Public Schools In Antigua And Barbuda
Sun2roof solar energy solutions ensure undisturbed education
The Government of Antigua and Barbuda (GOAB) fosters the development of renewable energies to gain independence from polluting diesel generators and disturbing power cuts. Therefore, GOAB has concluded a contract with our joint venture company PV Energy Limited to conduct a clean power project comprising a total of 10 MWp of solar power.
Alongside large-scale installations with a size of 8 MWp in total, the GOAB pursues its clean energy approach also through the realisation of numerous smaller projects. Equipping more than 50 schools and other public buildings with reliable energy solutions, namely PV Energy's sun2roof photovoltaic roof installations, as part of Antigua and Barbuda's commitment to sustainability is in full progress. Until today, 12 schools have been supplied with eco-friendly solar power solutions. The students of the Bendals Primary School, for example, benefit from a sun2roof system delivering 130,7 kWh of green renewable energy per day and saving yearly 25.260 kilograms of carbon dioxide emissions since June 2016.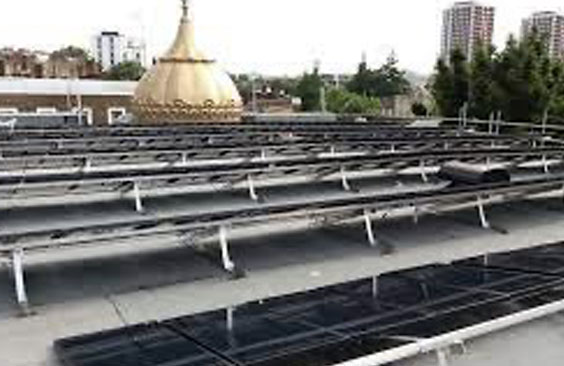 Central Gurdwara (Khalsa Jatha) in London
PV Energy Limited completed the installation of a sun2roof solar system on the rooftop of the Central Gurdwara (Khalsa Jatha) in London. The oldest Sikh temple in Europe, located in Shepherds Bush in the Western part of London benefits from a Grid tied photovoltaic energy solution generating sustainable and environmentally friendly solar power and ensuring long-term cost savings.
The Central Gurdwara (Khalsa Jatha) temple undergoes a general refurbishment at the moment. In parallel to these construction works, PV Energy has resealed the complete roof with waterproofing materials and subsequently installed a sun2roof solar system on an area of 320 m2 on the rooftop of the temple establishing clean renewable energy supply. The clean energy solution ensures annual CO2 savings of more than 5,500 kilograms.
"We are proud that we got the opportunity to realise this solar project on such a historic building," states Guloo Virdee, director to PV Energy Ltd and board member of The Virdee Foundation. Guloo further states, "The sun2roof clean energy s olution allows us to benefit from the abundant power of the sun, and therefore to contribute in further reducing carbon emissions and protecting the environment."